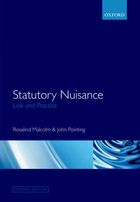 The second edition continues to guide lawyers, courts and environmental health officers regarding this crucial area of environmental law.  New statutory nuisances involving artificial light and insects are discussed and an extended chapter on noise nuisance is included. Environmental health practice increasingly comes under the scrutiny of the courts – and has sometimes been found wanting – for example in cases like R(on the application of Hackney LBC) v Rottenberg [2007] EWHC 166 (Admin) and Elvington Park Ltd v City of York Council [2009] EWHC (Admin).
For a review of our book, please click here: http://www.amazon.co.uk/product-reviews/0199564027/ref=sr_cr_hist_all?ie=UTF8&showViewpoints=1
For further details, including how to order your copy, please click here.