Case Studies
Here are case studies of some of the problems we have been involved with over the years. They illustrate the kind of approach we like to use. We try and think "outside the box" to find intelligent and sustainable solutions that are reasonable for all parties. Case studies also reveal the importance of linking good legal advice with technical solutions.
more

Professional Training
We are able to design and deliver training programmes that are relevant to your needs. We would be happy to design bespoke training for you. We have over 20 years experience running professional training events for environmental health professionals and lawyers for the CIEH, local authorities and industry.
more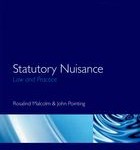 Statutory Nuisance: Law & Practice, 2nd edition, 2011
The second edition of John Pointing's leading text on statutory nuisance (with Rosalind Malcolm) was published in September 2011. For further details, an independent review and how to order your copy, click more